Stanton Friedman Visit
Stanton Friedman is a Nuclear Physicist who is a recognized authority on Flying Saucers. See below for pics n stuff.
He came to Plattsburgh on Monday April 3, 2000 for his illustrated lecture 'Flying Saucers ARE Real.'
I want to thank the Plattsburgh State University Student Association and Senate, and especially Ryan Cretian, for their help and sponsorship of Mr. Friedman's visit. Thanks also to The clinton Community College Student Senate, and a special thanks to Bombardier Corp. for their help is sponsoring this exciting series of events.
There was a 9:30 AM News Conference in the Clinton Community College Theatre in the new Science and Technology Building for members of the media to have full access to Mr. Friedman.
The first illustrated lecture was in the theatre and start at 12:00 P.M. Noon on that day. He gave another lecture at Plattsburgh State University Angel Center Ballrooms at 7:00 P.M. that same night. Tickets to the Noon lecture at CCC were $3 for those with CCC ID and $5 for everyone else, the evening lecture was free.
On Wednesday March 22, 2000 at 6:00 P.M. we showed his 1996 movie "Flying Saucers ARE Real" also in the CCC Theatre. I presented a short illustrated talk about the many interesting things happening in our Solar System from areas of this website.
It was outta this world!!!
Visit Stan's site for more information on his books, papers and CDs
Me n Stan:
Stan and WPTZ-5
Ryan Cretian from PSUC n Stan: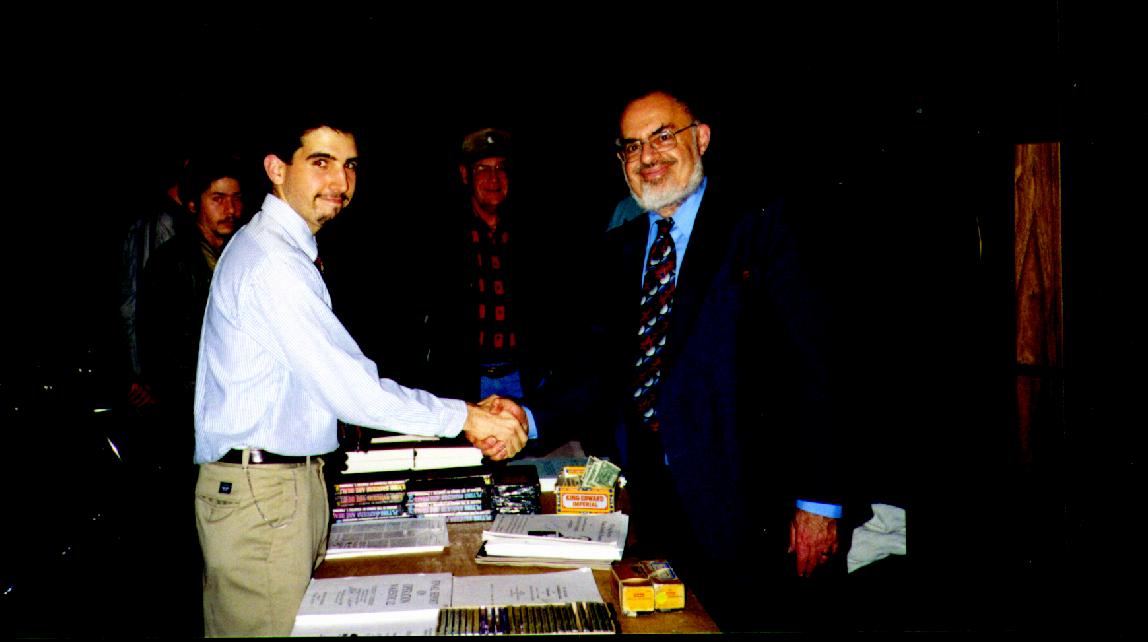 PressRepublican article before visit:
pic2 same article as above continued:
Article from after the illustrated lecture: